Our commitment to providing each child with a quality education tailored to his/her abilities and needs begins with hiring and supporting outstanding teachers and administrators.
Administration
Head of School Zvi Weiss [email protected]
School Rabbi and Director of Integrated Learning Rabbi Laurie Hahn Tapper [email protected]
Chief Finance & Operations Officer Dr. Diana Wilmot [email protected]
Dean of Learning and Instruction (4-8) Cindy Schlesinger [email protected]
Dean of Learning and Instruction (K-3) Erin Ostilly [email protected]
Director of Admissions & Marketing Joy Null [email protected]
Director of Development Daniela Silverstein [email protected]
Controller Sue Balfus [email protected]
Office Administrator Jennifer Carranza [email protected]
Advancement Associate Lauren Carlinsky [email protected]
Faculty
Nira Ben Simhon [email protected]
Millie Greenberg [email protected]
Michelle Mathews [email protected]
Lee Weiner [email protected]
Tom Kerem [email protected]
Yael Ross [email protected]
Kari Wolff kari@yavnehdayschool.org
Vered Zimmerman [email protected]
Amy Schiff [email protected]
Ilana Friedlander [email protected]
Aviva Greenberg [email protected]
Renee Fine [email protected]
Lior Ben-Hur [email protected]
Einat Freundlich [email protected]
Ted Pierce [email protected]
Vanina Sandel [email protected]
Danielle Sapiens [email protected]
Judy Schultz [email protected]
Jenessa Schwartz [email protected]
Jamie Zimmer [email protected]
Administration Biographies
Zvi Weiss – Head of School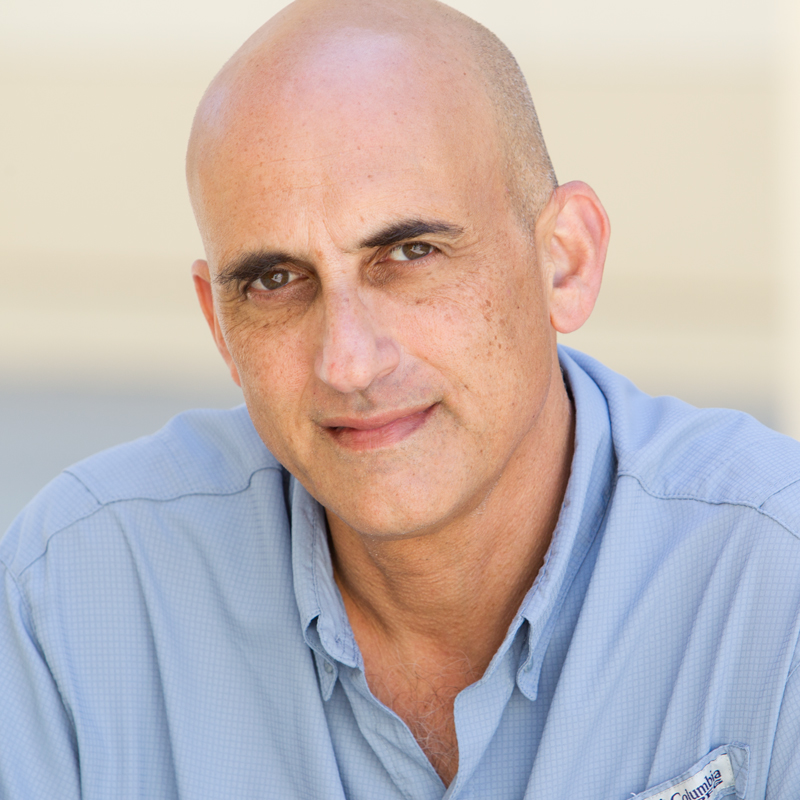 Zvi Weiss has taught and administered Jewish educational programs in a wide variety of formal and informal educational settings including: congregational schools, high school programs, youth retreats, adult education, parent education, family education, Hebrew language immersion, Israel programs and March of the Living. With an academic background in Educational Psychology from The Hebrew University in Jerusalem, Zvi worked as school psychologist in a number of schools in the Jerusalem area, directed educational programming at an institution for persons with developmental disabilities in Tiberias and served in the Israel Defense Force's Behavioral Sciences Division.
Professionally, Zvi has served as the Associate Director of the Bureaus of Jewish Education in both Los Angeles and the San Francisco Bay Area. Most recently, he served as the Director of Early Childhood and Family Education at the Oshman Family Jewish Community Center in Palo Alto. During his tenure, he oversaw the growth of the school from 85 to over three hundred students while leading strategic initiatives that introduced new approaches to education and staff development.
Zvi and his wife Debra have four children. Several years ago, the whole family spent a year traveling through the seven continents and visiting Jewish communities in many unusual places. Zvi's career path continues to focus on his main passions: a belief in learning that is creative, individualized and accessible to all, a love for the Jewish people, and a strong commitment to the State of Israel.
Rabbi Laurie Hahn Tapper – School Rabbi and Director of Integrated Learning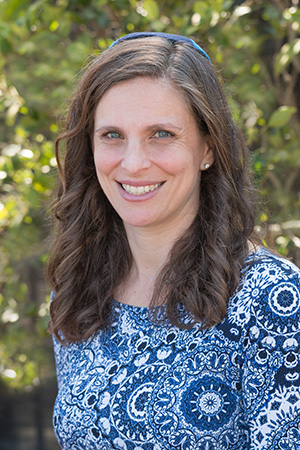 Rabbi Laurie Hahn Tapper is a graduate of Stanford University. She earned a B.A. in History, graduating with Honors in Jewish Studies. She was ordained by the Jewish Theological Seminary and received an M.A. in Education. Rabbi Hahn Tapper is also an alumna of the Wexner Graduate Fellowship.
Prior to coming to Yavneh Day School, Rabbi Hahn Tapper served as the Director of BCI and Adult Programs at the Brandeis-Bardin Institute, a trans-denominational Jewish experiential education retreat center. She also worked at Reform and Conservative Jewish summer camps across the country and taught at various Jewish day schools in both the New York City and Los Angeles areas. Additionally, she lived in Israel where she studied Sacred Texts at the Pardes Institute and worked for Hillel at the Hebrew University of Jerusalem.
Rabbi Hahn Tapper engages our students in the joys of the Jewish community through a variety of creative forms of education and spirituality. She enjoys watching the students explore their Jewish identities as they focus on Jewish life connections discovered through the arts, the outdoors, and alternative Tefillot (prayer).
Rabbi Hahn Tapper says that her interest in the Rabbinate began when she was a teenager at Camp Swig, watching the sunrise with her bunkmates from atop a mountain. She lives in Redwood City with her partner, Dr. Aaron J. Hahn Tapper, along with their two young children and two cats.
Dr. Diana Wilmot – Chief Finance and Operations Officer
When Dr. Wilmot graduated from Northwestern University's School of Education and Social Policy in 1996, she envisioned leading a school's efforts to teach children through innovative curriculum design and implementation. In 1998, she started as a high school math teacher in NY and then continued to teach math at Los Altos High School. Dr. Wilmot left the classroom to receive her Ph.D. in Education from UC Berkeley's Graduate School of Education. Her research mainly focused on measuring and evaluating students' procedural knowledge and conceptual understanding in mathematics. As a past administrator for the county and Palo Alto Unified School District, she has applied her research in classrooms and supported school leaders and teachers in their efforts to focus on academic growth and make learning more visible in order to improve student learning.
Cindy Schlesinger – Dean of Learning and Instruction (4th-8th)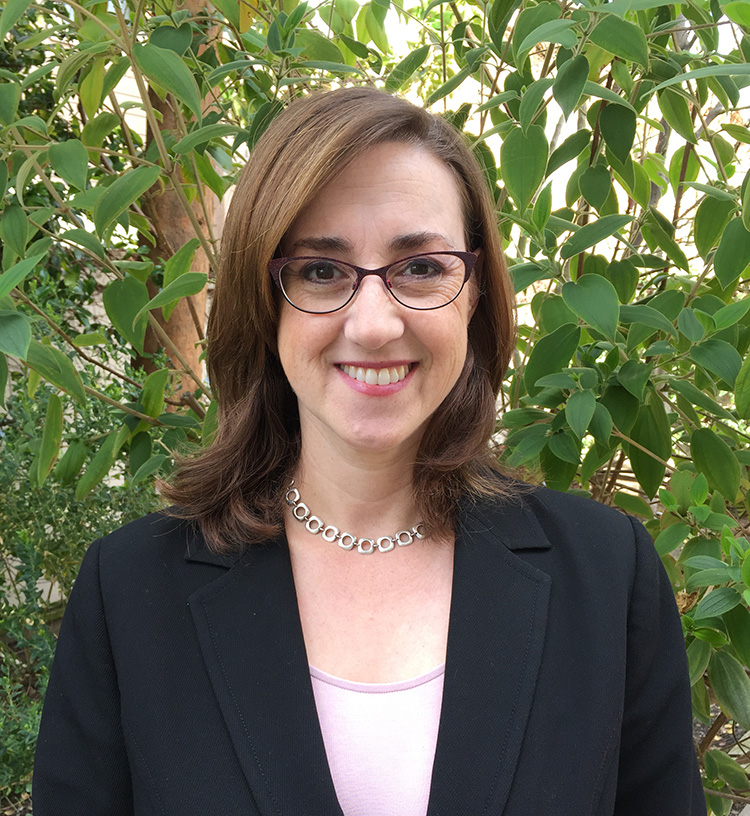 Cindy Schlesinger comes to Yavneh after 21 years as an administrator, learning specialist and teacher at Jewish day schools. During her tenure at Gideon Hausner, Cindy taught in the math and science programs, bolstered the school's capacity to address individual needs for both gifted students and those with learning challenges and, during her role as Head of Middle School, was instrumental in building and supporting an outstanding faculty while increasing enrollment to its highest levels.
Cindy's academic background includes an MS degree in Science Education from USC, participation in Harvard University's Principals' Center institute and Columbia University's course on gifted education. She has participated in intensive summer training seminars and has implemented Project Based Learning, Design Thinking, Social Thinking, Responsive Classroom and Facing History and Ourselves. She trained as a Silicon Valley Math Initiative coach, and has completed extensive Special Education coursework.
Cindy is a Bay Area native and met her husband, Jon, working as a camp counselor at the Palo Alto JCC. Their son is a graduate of Kehillah and is currently a student at Yale University. Cindy served on the Board of Directors at Congregation Beth Am as well as on their senior rabbi search committee.
Erin Ostilly – Dean of Learning and Instruction (K-3)
Before moving to the Bay Area, Erin was the Dean of Student Academics at one of Toronto's largest Jewish Day Schools. Prior to that, she was a learning support teacher and taught third and fourth grade in independent schools in both Toronto and New York City.
Erin holds a Bachelor's Degree in Sociology from the University of Western Ontario and received her Masters of Teaching Degree from Griffith University in Queensland, Australia. She has since earned her Reading Specialist Certification and participated in the Reading and Writing Project at Columbia University.
In her free time, Erin enjoys spending time with her husband and two children. She loves to travel, cook, entertain and play Mahjong with friends.
Sue Balfus – Controller
In 2006, Sue earned her MBA with a focus in Global Operations. She has over 18 years of experience in operations and finance management. Before coming to Yavneh, Sue was the Director of Sales Operations with a heavy emphasis on compensation and fiscal responsibility (budgeting).
If you don't see Sue in the office, odds are she is upstairs in the kitchen surrounded by students who love cooking.
Joy Null – Director of Admissions and Marketing
Joy Null comes to Yavneh with 19 years of experience in marketing and communications having worked with companies ranging from energy saving ("greentech") products to semiconductor equipment. She lives in San Jose with her husband and two children, who are both Yavneh students. She enjoys tennis, knitting, writing and "family game night".
Daniela Silverstein – Director of Development
Daniela Silverstein joins Yavneh's Administrative team as the Director of Development. After earning a B.S. in Political Science and M.A. in Counseling Psychology at Santa Clara University and a Graduate Certificate in Human Resources Management from Washington University in St. Louis, Daniela has worked in Human Resources and Childcare Counseling and has enjoyed serving on committees hosting community events and fundraisers serving Jewish Family Services and Yavneh Day School.
In her spare time, Daniela enjoys spending time with her husband and two boys (both Yavneh students), traveling to visit family on the east coast and exploring new places.
Jennifer Carranza – Office Administrator
Jennifer Carranza was born and raised in Northern California. She brings to our front office warmth, professionalism and organizational skills which she has acquired from her 15 years of administrative and customer service experience.
She loves working with children and has three children of her own. Jennifer spends most of her free time with her friends and family. Her hobbies include camping, hiking, and building living room forts with her children.
Lauren Carlinsky – Advancement Associate
Lauren Carlinsky joined the Yavneh team as Advancement Associate. She is focusing on alumni engagement and collaborates with admissions, marketing, and development.
After receiving her BA in Public Communications from Ramapo College of New Jersey and a K-8 teaching credential, Lauren taught as a public school elementary and middle school teacher. She also taught Judaic studies at Temple Ner Tamid in Bloomfield, NJ. Lauren's previous experience includes work at a NJ non-profit where she was program coordinator of a youth empowerment tobacco prevention program. After relocating to California in 2007, Lauren began working for Sylvan Learning in Cupertino, as the Center Director.
Lauren enjoys spending time with her three children and husband Eric. She also loves playing Mah-Jongg, cooking, traveling, snowboarding, and volunteer work.
Faculty Biographies
Nira Ben Simhon – Kitah Gan (Kindergarten) Teacher
Nira is a Reggio-Emilia inspired educator with many years of experience in kindergarten and early childhood education. Before coming to Yavneh, Nira worked at the Oshman Family JCC in Palo Alto as a Hebrew immersion teacher and program coordinator. Prior to that, she taught kindergarten in Israel and worked at a preschool in Sunnyvale. Nira loves working with children and especially enjoys exploring the world of the Hebrew language with them in a fun and exciting way. Nira holds a degree in child development and education from David Yellin College in Jerusalem.
Nira and her husband Ilan have 4 children. She enjoys exploring art and nature, passions which she often shares through projects that she creates with her students.
Millie Greenberg – Kitah Gan (Kindergarten) Teacher
Millie has a B.A. in Speech Communication and a multiple subject teaching credential. She has taught in Mountain View, Milbrae and Campbell. Her first teaching job was as a  teacher's aide at Yavneh in 1989.
When Millie's not teaching, she volunteers at the APJCC as the chair of South Bay Teen Idol and for the JCC Maccabi Games. She enjoys hiking, traveling, visiting her sons in Wisconsin and Michigan, and playing with her two small dogs.
Michelle Mathews – Kitah Gan (Kindergarten) Teacher
Michelle was born and raised in the Santa Cruz Mountains where she grew a love for nature and the outdoors. Michelle is a very creative educator with a degree in Child and Adolescent Development and a Master's in Education from UC Santa Cruz. Prior to teaching kindergarten, she taught at Circle of Friends preschool for over four years.
Michelle's passion lies in project-based learning and building classroom community.
Lee Weiner – Kitah Gan (Kindergarten) Teacher
Lee enjoys playing with children while helping them learn and grow. She holds a BSc degree in Education and Design from the Kibbutzim College (Seminar Ha'Kibbutzim) in Tel Aviv. She received her Israeli Teaching Certificate after interning as a High School Art teacher. Prior to joining Yavneh, she worked as an art director and teacher in the Moadon Kol Chadash school in Chicago, IL.
Lee loves exploring beautiful northern California with her husband, Gilad, and son, Jonathan.
Tom Kerem – Kitah Alef (First Grade) Teacher
Born and raised in Israel, Tom graduated from Haifa University with a B.Sc. in Science education. Tom has always been passionate about children and their education. That is why she decided to go back to school in Israel and get certified as an elementary school teacher. Her program included hands-on work experience in the classroom. During this experience, she was recognized for her ability to capture students' interest and attention by employing diverse teaching techniques. Tom believes in building positive relationships with her students by using an open and kind approach and engages children in the fun and exciting world of the Hebrew language and culture.
Tom loves animals and nature and in her free time she enjoys traveling and getting to know new places and cultures.
Yael Ross – Kitah Alef (First Grade) Teacher
Yael was born in Israel and raised in Los Angeles. She received her bachelor's degree at San Diego State University and her graduate degree through the DeLeT teaching program at Hebrew Union College. Yael loves her Yavneh community and believes in the rich, integrated learning found in every classroom. She is always eager to inspire the minds of her students.
On her free time, Yael loves exploring the beautiful things Bay Areas has to offer.
Kari Wolff – Consultant
Kari Wolff is excited to be returning to Yavneh Day School in a professional capacity, where she taught first grade in the past. In the classroom, Kari is known for her warmth and caring for students. Kari has studied Economics, Computer Science, Hospitality Management and Education and possesses B.Sc. and Master's degrees from Cornell University and University of Santa Clara.
First grade is Kari's passion and she especially enjoys engaging students in long term interdisciplinary projects. She is looking forward to continuing to build her relationship with students as she facilitates their continued academic growth.
Vered Zimmerman – Kitah Alef (First Grade) Teacher
Vered Zimmerman has been a teacher at peninsula area schools for over a decade. Shortly after receiving a degree and starting her career in computer science, Vered discovered her true passion – education. She subsequently earned an early childhood credential and a California elementary teaching credential, as well as training in Hebrew Immersion education. Vered was born in Israel and is fluent in both Hebrew and English.
Vered loves hiking and the outdoors and is an avid practioner of yoga. She is married to Michael and has three boys who have each completed their own education in computer science at UC Berkeley, UCLA and UCSC.   Grace Lee – Kitah Alef (First Grade) Teacher
Grace Lee received a BA in English from UCLA and an MA in Print Journalism from USC. She also earned a single subject credential in English from Cal State Northridge.
Before moving to the Bay Area fro Los Angeles, Grace taught middle and high school for five years, and has also taught at the elementary school level. Grace also has past experience as a journalist and was a staff writer for the Los Angeles Daily News and the Associated Press. She has written for the LA Weekly and the Los Angeles Times.
In her free time, she enjoys reading political novels, going on hikes, and watching Pixar movies with her husband, son and dog.
Ilana Friedlander – Kitah Bet (Second Grade) Teacher
Morah Ilana started at Yavneh Day School in 1991. Born in Israel's Jezreel Valley, Morah Ilana earned her teaching degree in Elementary Education (K-2) from Nahalal Teacher's College. She furthered her education at UC-Santa Cruz's extension campus where she focused on Special Education. Morah Ilana said that she likes being a teacher because she enjoys interacting with children and she wants to give of herself and share what she knows about Israeli culture, Jewish holidays, Hebrew language and more. She likes when her students have the "light-bulb moments". She is quite comfortable with the environment at Yavneh because it reminds her of being in Israel.
In her spare time, Morah Ilana enjoys reading, watching TV and taking long walks. Morah Ilana lives with her husband and one son as well as her dog, Yukon. Her daughter is married and lives in Israel. Morah Ilana visits Israel often in order to visit her grandchildren as well as other family and friends.
Amy Schiff – Kitah Bet (Second Grade) Teacher
Amy Schiff was born and raised in San Jose, and has both an undergraduate degree and a teaching credential from UC Berkeley as well as a CLAD certificate from UCSD. She has been a tenured teacher in the East Side Union High School District, a fifth grade teacher at Rocketship Si Se Puede and an associate teacher of first and second grade at Bullis Charter School. Amy adores children of all ages and is passionate about both Judaism and education.
Amy is devoted to her husband and family, books, theater, art, travel, Israel, politics, animals, justice and nature.
Aviva Greenberg – Kitah Bet (Second Grade) Teacher
Born in Ohio, Aviva's parents made aliya when she was an infant. She grew up in Israel and served in an Intelligence Unit in the Israel Defense Forces. She majored in English and drama at the University of Haifa and has a teaching certification and a Masters Degree in TOEFL. Morah Aviva has been teaching for over 15 years including 8 years at the well-known Reali High School in Haifa where she also founded and directed the school choir. She has also taught Hebrew in Atlanta, GA at the Davis Academy.
At Yavneh Day School, she feels at home and enjoys working with a welcoming staff and community and with inquiring and intelligent students. Morah Aviva has four young children. In her free time, she enjoys playing with her children, traveling with her family, baking, and singing.
Wendy Ron – Kitah Bet (Second Grade) Teacher
Wendy was born and raised in Cupertino. She graduated from the University of Oregon with a BA in Theater Arts and later earned both an Oregon and California multiple subject teacher credential. For the past 14 years, she has been teacher in the Bay Area.  Wendy draws from academic foundations in Reader and Writers Workshops, Responsive Classroom, Singapore Math, and project based learning. She enjoys building strong relationships with her students and their families.
She and her husband live in Mountain View and like bicycling to the farmers market on the weekend. She is active in community theater, patient advocacy, watching the Sharks, and visiting Disneyland.
Elle Pan – Kitah Gimel (Third Grade) Teacher
Elle is a Bay Area native, growing up in Saratoga, CA. Shereceived a BA in communication from the University of Southern California. She then attended the credential/graduate program and UC Santa Cruz and earned a Masters in Education and Multiple Subject Teaching Credential
Aside from teaching, Elle enjoys the outdoors, art, literature, and music. In her spare time, she can be found with her nose buried in a book, enjoying a concert, drawing, or camping and hiking in the redwoods.
Renee Fine – Kitah Dalet (Fourth Grade) Teacher
Renée Fine began teaching at Yavneh Day School in 1999. Renee studied at San Diego State University and National University in Madrid, Spain and has her B.A. in Social Work and in Spanish. She also completed a Hebrew Ulpan at the University of San Francisco.
Renee chose to become a teacher because she enjoys children and wants to create a positive educational experience in the classroom for as many students as possible. Teaching at Yavneh is a "dream come true" for Mrs. Fine because Yavneh's school philosophy to integrate Judaism with General Studies is a concept Renée believes to be key in enabling young minds to see the value of living a Jewish life in the global community. Mrs. Fine holds dear the celebration of Shabbat and "living the Jewish Calendar." When she is not teaching, she spends time with her five children (all of whom have attended Yavneh) and her husband.
Jennifer Khait – Kitah Hay (Fifth Grade) Teacher
Jennifer has been an educator for twelve years, with eight of those years teaching 5th grade. She earned her Multiple Subjects Teaching Credential and Master's Degree in Education from UC Santa Cruz. She is passionate about utilizing innovative teaching practices to inspire children to learn and grow.
Outside of the classroom, Jennifer enjoys spending time with family – particularly her husband and young son – and friends, traveling, reading, as well as being outdoors.
Ellen Abelar – Math Teacher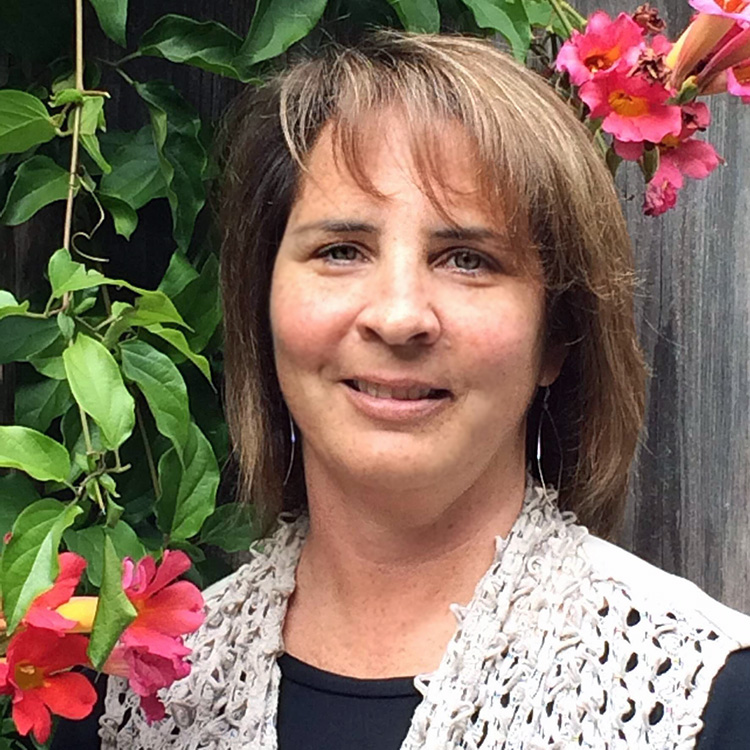 Ellen Abelar is a self-confessed math geek. She holds a BS in Mathematics and a BA in Quantitative Economics from Tufts University. It wasn't until she stepped out of the corporate tech world that she realized how important her math teachers were in her formative years. Since that realization, she has begun to share her enthusiasm and knowledge with students in both elementary and middle schools. Prior to teaching at Yavneh, she taught math to middle schoolers and administered the after school program at Aptos Junior High. Ellen enjoys fostering a love of thinking "outside of the box." Besides academia, Ellen loves spending time with her husband and 3 sons.
Lior Ben-Hur – Music Director/Teacher
Lior Ben-Hur is a performing artist, music composer and award-winning educator born and raised in Jerusalem, Israel. Lior earned his Bachelor of Arts degree from San Francisco State University in the World Music program. Having a love and passion for music and world cultures, he is constantly traveling around the globe learning new musical traditions.
In addition to performing, Lior is an educator who presents engaging programs for children and adults, including Jewish music classes, songwriting workshops and professional development workshops for Jewish educators. In 2013, Lior won the national Grinspoon-Steinhardt Award for Excellence in Jewish Education for his innovative methods of integrating music as part of the educational experience.
In 2011 Lior founded Sol Tevél and in 2012 assisted by the legendary Israeli music producer, Yossi Fine, he produced the band's debut album, World Light, which aims to shed a new light and contemporary interpretation on old Jewish texts, ideals and mysticism. Along with his 7 piece band, Lior Ben-Hur continues to focus on his passion for Reggae music, which has been a key inspiration on his musical creativity and spirituality.
Maria Cammisa – Middle School Science Teacher
Maria was born and raised in San Jose. She has a BA in Music and Multiple Subject Credential from San Jose State University. Prior to joining Yavneh, she worked with students of varying ages from preschool through eighth grade – middle school is by far her favorite age to teach. She is passionate about encouraging growth mindsets, promoting mindfulness, and integrating technology.
During her free time, Maria enjoys cooking, traveling, singing, painting pottery, and spending time with her family.
Einat Freundlich – Middle School Hebrew Teacher
Einat carries a BA and MA from Bar Ilan University and has taught lower school Hebrew at a Jewish Day School. Einat is a very dynamic educator who believes in teaching Hebrew as a living language following students' interests to create greater engagement.
Einat's teaching background is diverse. She taught courses in industrial thinking and nature among other topics in Israeli elementary schools and was an education officer in the Israeli Air Force. Prior to teaching, she was a certified social worker.
Shanin Fox – Librarian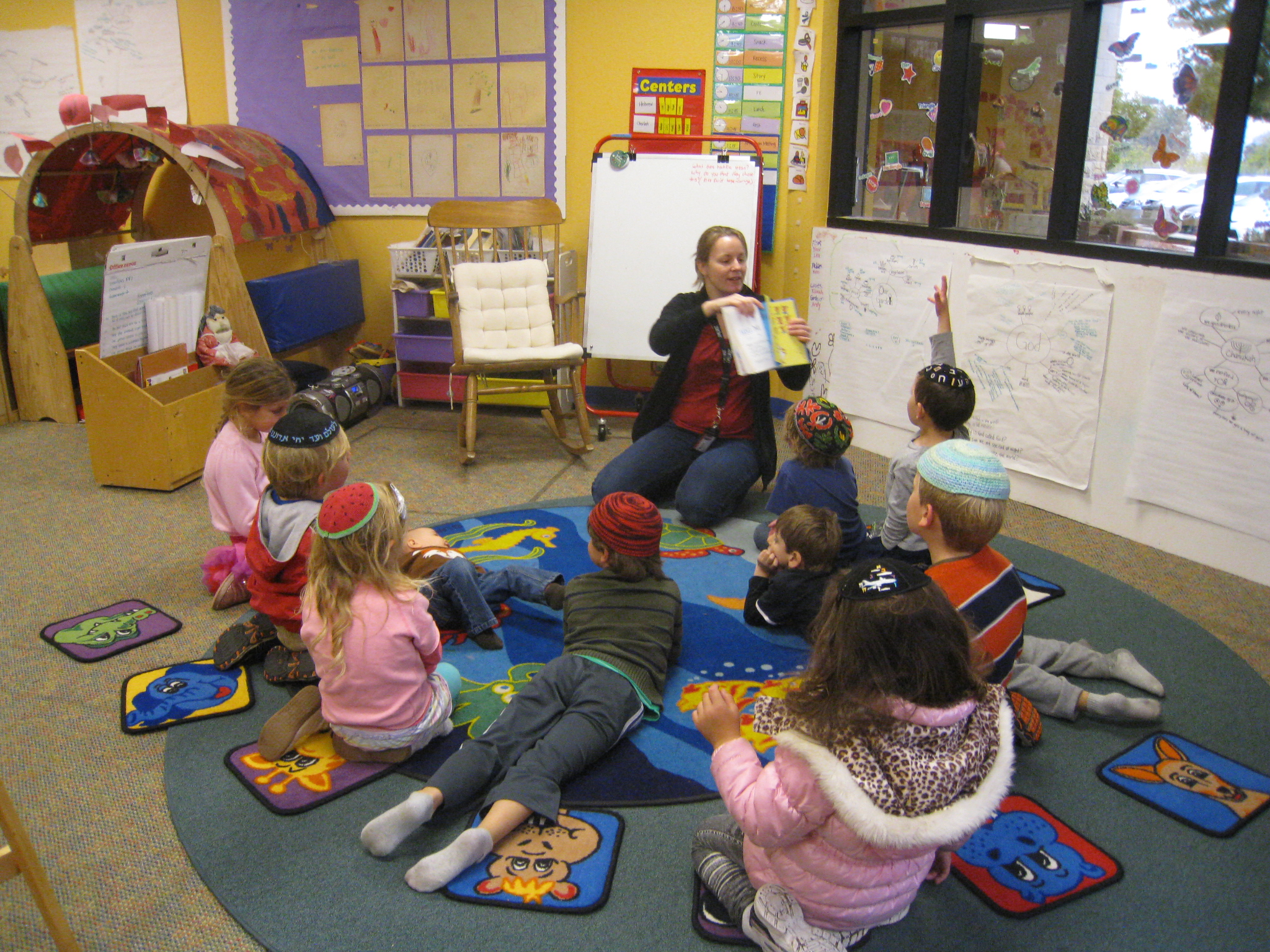 Shanin Fox is the Librarian at Yavneh Day School. She has a degree in English Literature and a Masters in Library and Information Science from San Jose State University. Shanin decided that she wanted to be a librarian because she wanted to share her love of books and her passion for reading and learning with students and teachers, alike.
She chose the Yavneh environment for the warm, family atmosphere and because the school's focus is on teaching the students the necessary skills required for the 21st century. When Shanin is not teaching, she enjoys reading, traveling, scrap-booking, hiking, cooking and spending time with her family.
Ted Pierce – Middle School Global Research Teacher
Ted holds a Social Studies teaching credential, in addition to a degree in Economics. In recent years while primarily raising three children as a stay at home father, Ted taught part-time in Campbell, Los Gatos and San Jose schools before joining the Yavneh staff. Ted is excited for the opportunity to help your children fully appreciate the importance of world history and politics and understand how they influence current events. He is very fond of the quote, "Those who cannot remember the past are condemned to repeat it". Ted believes in holding students to high academic standards while encouraging them to embrace their role in the community.
Vanina Sandel – STEAM Coordinator
Vanina coordinates our Science, Technology, Engineering, Arts, and Math (STEAM) programming. She helps teachers implement their curriculum in Full Options Science System (FOSS), and is the lead Science teacher in Fourth Grade. She supports technological integration in all subject areas and oversees all of our school devices. She offers a middle school elective class in Coding and Design Thinking, helps students publish their work on their online personalized portfolio, directs our after school enrichment programs in Jr. and First Lego League, and teaches our after school class in Tinkering.
Vanina is originally from Buenos Aires, Argentina where she earned a degree in Systems Information Engineering with a minor in Business. There she worked in high tech and established a software development company. Vanina moved to California 10 years ago to work for Hillel of Silicon Valley, first as a Program Director and then as an Assistant Director. She has also been involved as a volunteer in the Jewish community with organizations including the Jewish Federation, the APJCC Preschool, and Congregation Beth David (where she also taught in their Hebrew High program). In Argentina, Vanina attended Jewish Day School from the age of 2 to 18. Now, she coordinates the STEAM (Science, Technology, Engineering, Art, Math) initiative with teachers and students.
Vanina is married to Sharon and together they have two children, Ethan and Naomi.
Lizi Sand – Hebrew Teacher
Lizi was born in Maryland, lived in Africa, and was raised in Israel from the age of 9. She brings to Yavneh over 10 years of teaching experience, including Hebrew and English, from preschool through high school in Israel and the U.S.
Lizi's passion lies in the learning and teaching of languages and different cultures and as such, she has initiated and led projects that provided students with a rich and diverse experience of appreciating and celebrating differences. Lizi holds a BA in Education and Political Science and a teaching certificate in English, both from Ben Gurion University. She is also a Google Certified Innovator.
Lizi is a former volunteer in the JAFI Partnership 2000 project and Beit Hillel. She is happy to be part of the Yavneh community, not only as a parent but also as an educator where she can bring her love of the Hebrew language, Jewish values and Israeli culture to this unique community.
Danielle Sapiens – Math Teacher
Danielle Sapiens leads our efforts across our school to coordinate a coherent, dynamic mathematics program that supports academic excellence. She teaches math to upper elementary and middle school and offers an elective class in Math Competition. In addition, she teaches Advisory and offers an after school enrichment class in Junior First Lego League. Danielle  comes to Yavneh with more than 11 years of experience educating children. In 2013, she moved to the US from Israel where she was born and raised. She has a B.Ed. in math and computer education from the Levinski College in Tel Aviv as well as an Israeli teaching license. She holds a M.Ed. in cognitive sciences from the Hebrew University in Jerusalem. She performed research in advanced learning methodologies designed to enhance students' intellectual capabilities.
In her spare time, Danielle likes baking cakes and cookies for her family and friends. She also likes solving mathematical riddles and traveling with her family.
Judy Schultz – Arts Director/Teacher
Judy teaches students studio art throughout our lower school as well as a Visual Arts elective class in middle school. Judy also works collaboratively with all of our teachers to help students deepen their understanding and learning in multiple content areas. In addition, Judy teaches Advisory in our middle school, facilitates learning through students' independent Innovation Labs, coordinates our eighth grade Community Service/Social Action class, and offers after school enrichment in Art and Cooking.
When Judy joined Yavneh, she served as the Gan Co-teacher and Gan/Gesher Art teacher for five years. Judy majored in interior design and art and received her degree from Cal Poly in San Luis Obispo. Prior to Yavneh, she was an assistant teacher for three years at a local private school where she coordinated the after-school care program. Judy became a teacher because: "I love teaching children, working with different personalities and different abilities, and helping all students learn and feel confident." Judy and her husband have two children. In her spare time, she enjoys surfing, hiking, painting, working out, camping, reading, riding horses, and spending time with family and friends.
Jenessa Schwartz – Middle School Language Arts Teacher
Jenessa teaches our middle school English-Language Arts classes through a collaboration with our Global Research and Jewish Studies teachers. With an emphasis in writing and publications, Jenessa supports students' online learning portfolios and gives students an opportunity to participate in the iterative process embedded in the Writer's Workshop model. In addition, Jenessa offers an elective class in Performing Arts to middle school and upper elementary students and teaches Advisory and Avodah/Service Learning.
Jenessa Schwartz is a proud Yavneh graduate (class of 1993) and is thrilled to be joining the Yavneh faculty. She graduated with a BA in English and Theatre from Warren Wilson College and returned to the Bay Area to work as a Stage Manager in local theaters. During that time, Jenessa also began tutoring and discovered a passion for teaching. She went back to school and received a Masters in Education from NYU. Jenessa loves talking with students about literature, helping them make connections between the characters in books and themselves. She also enjoys helping students become confident writers who can ably and eloquently express themselves.
In her spare time, Jenessa enjoys practicing yoga, belting out showtunes in her kitchen, and spending time with her husband Mike and her kids Ramona and Solomon.
Nate Witherbee – Modern Band Teacher
Nate Witherbee received his B.A. in Music Composition and Spanish from Bates College in Maine. After finishing school in 2008, he moved to San Francisco to be a part of the thriving community of local musicians. With his band, Guy Fox, Nate performed in some of San Francisco's most prestigious venues (like the Independent and the Great American Music Hall) and went on to license his recorded music to network television shows.
Throughout his time pursuing his own music, Nate has found it essential to teach music and share his passion with kids. He loves the experience of fostering students' curiosity and discovering what makes them most enthusiastic. In the past, he has worked as a band teacher at Encompass Academy in East Oakland and as a ukelele instructor at Presidio Knolls School in San Francisco. Nate is excited to build on the Modern Band program at Yavneh.
Jamie Zimmer – Middle School Jewish/Israel Integration Teacher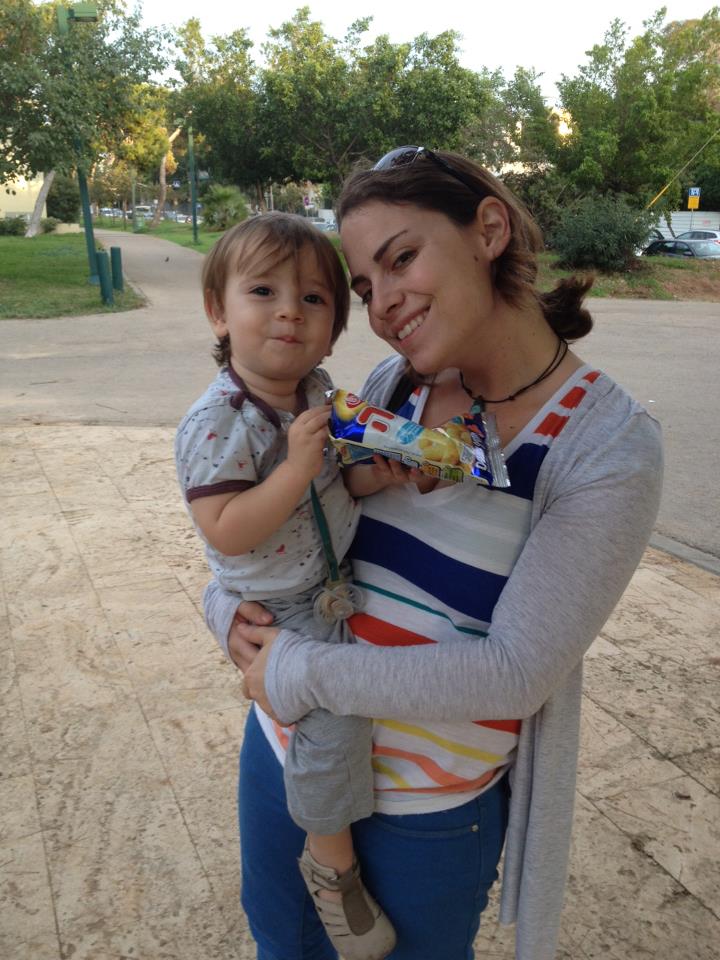 Jamie supports our middle school English-Language Arts and Global Research classes by integrating Jewish Studies with a collaborative and co-teaching model. She also teaches middle school Israel Studies.
Born in Cleveland, OH, raised in Melbourne, Australia and matured in Tel Aviv, Israel, Jamie comes to Yavneh with a wealth of Jewish communal and educational experience. A graduate of the King David School and former head of education for Netzer Australia, Jamie earned her BA in Journalism and Communications from Monash University in Melbourne, where she minored in Jewish History and Hebrew. She was the Youth and Education Director at Temple Beth Israel, Melbourne's largest progressive synagogue, from 2004-2008. After moving to Tel Aviv in 2008 with her husband Ilan, Jamie went to work in youth and teen magazines at the Jerusalem Post while also teaching students on year programs for the Jewish Agency and leading shabbat services and seminars for Birthright groups. Her last position in Israel was as marketing communications manager for eTeacher, an online Hebrew academy, before relocating with her young family to San Jose.